Corporate Clean-up Paddles
Kayak for conservation
Corporate Clean-up Paddles
Become a harbour hero!
Lavender bay
From 9:30am
Allow 2 hours
Group Pricing
Guide Ratio 1:6

Beginner
Become a harbour hero! From the comfort of a kayak, guided by professional, passionate kayak guides, glide around Sydney's natural harbour, taking in the striking city skyline and famous Sydney icons.
On our Corporate clean up paddles, you will learn all about the sustainability initiatives of the Lavender Bay area whilst collecting rubbish from the waterway. A good dose of fresh air and plenty of vitamin D will set you and your corporate team up for the rest of the day.
Since 2018, Sydney By Kayak pledged to put $15 aside from every seat sold, creating our SBK Conservation fund, helping local sustainability initiatives, surrounding Sydney Harbour's foreshore. Some of these initiatives include a Mangrove Nursery in Berry's Bay, a Seabin in Darling Harbour and a world first Living Seawall Habitat Boulder installation in Lavender Bay.
Spend an hour of your morning collecting rubbish from the waterways, creating memorable moments while making a difference.
If you are looking for a teambuilding activity or corporate volunteer day with a difference, this kayak tour is for you, with $15 from every seat sold, supporting local conservation initiatives.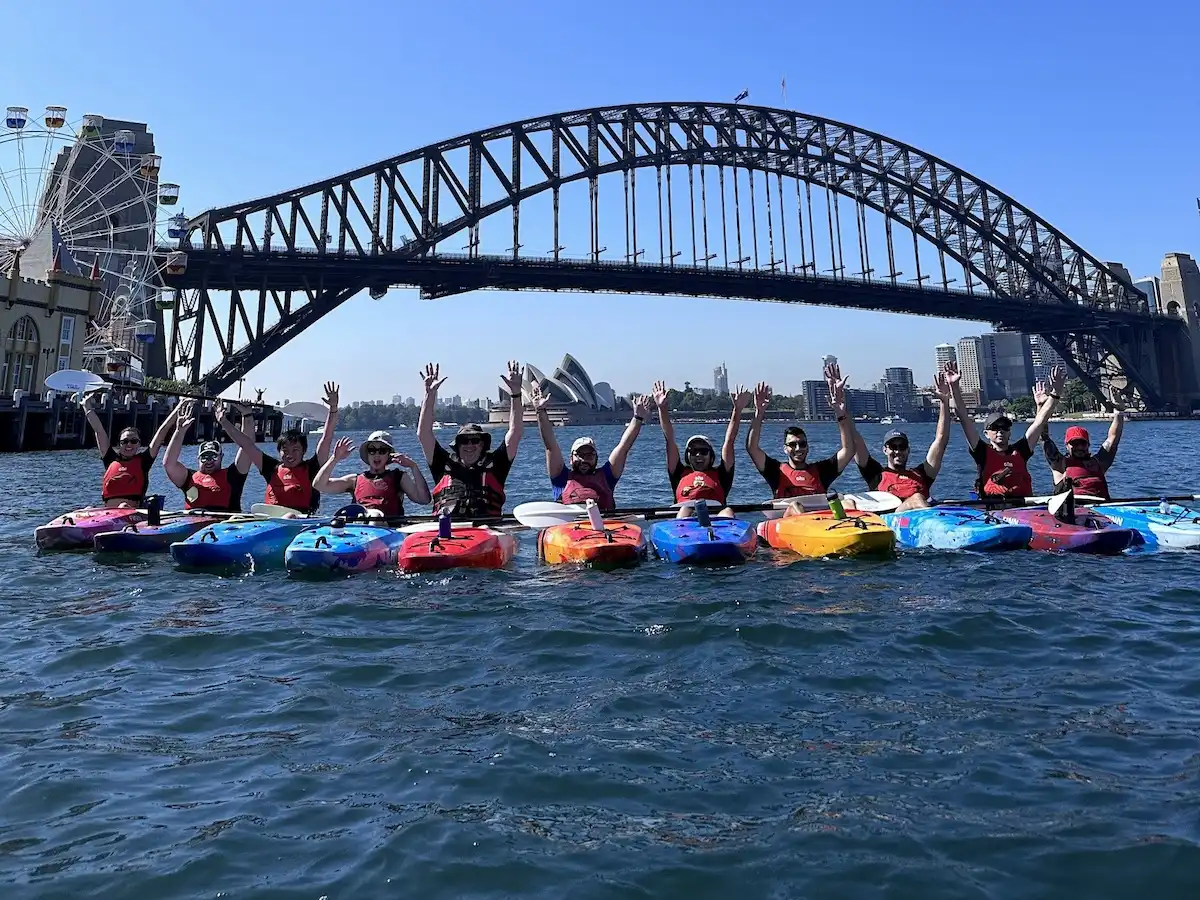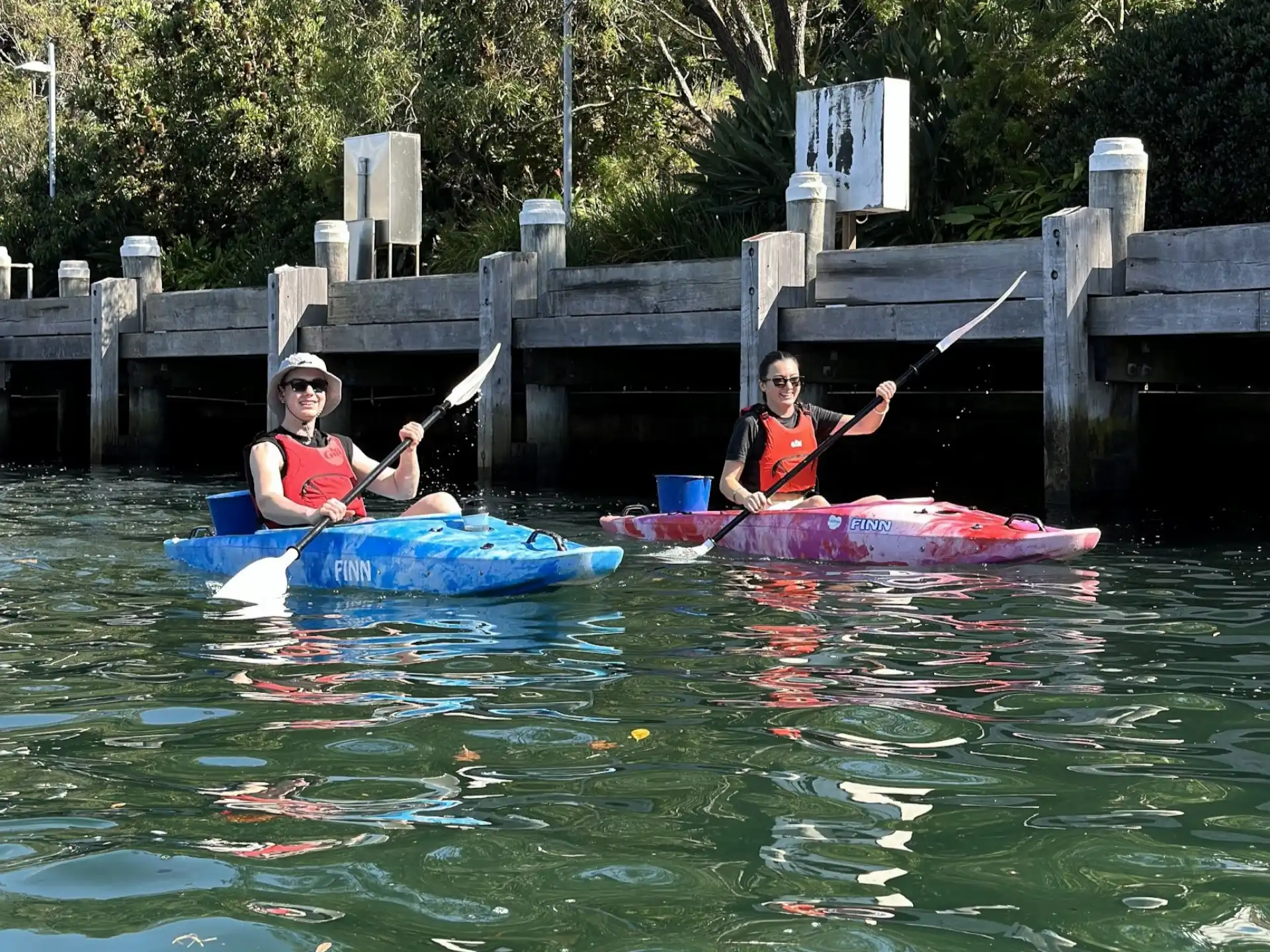 What You Can Expect
Our eco-adventure begins at Lavender Bay boat ramp where our fun, friendly and experienced guides will meet you (just look for the bright kayaks). After a safety briefing, life jacket fitting and kayak instruction, you'll head out onto Sydney Harbour for a leisurely lap of beautiful Lavender Bay.
Hear the stories about our passionate team and eco partners, Ecobel Sydney and The Sydney Institute of Marine Science, committed to protecting Sydney's waterways, and learn about their conservation initiatives. With Sydney's spectacular icons, the Sydney Harbour Bridge and Sydney Opera House in the background, you'll fill your buckets with rubbish, playing your part in protecting and conserving spectacular Sydney Harbour.
Making a difference doesn't mean missing out. We'll take care of the little things, keeping your team safe, offering educational talks and snapping lots of photos with the best of Sydney in the background, providing an album of incredible photos, videos and memories for your team to take away.
Included in your tour
All kayak equipment including a single kayak, paddle and life-jacket (available in various sizes).
Buckets and sieves for safely collecting rubbish.
Qualified, experienced and friendly kayak guides/instructors.
Full safety briefing and kayak instruction prior to departure.
Free digital photos and videos, taken by your guides.
Hand sanitiser and sunscreen.
What if I haven't kayaked before?
Our kayak tours and social paddles and a great way to experience kayaking for the first time. Kayak Guides will brief you on safety and demonstrate the best paddling techniques, ensuring you have a great time out on the harbour. Let us know if you are a 'newbie' on the paddle questionnaire, so we can give you all the pro tips before you hit the water.
What do I need to bring?
Just like a trip to the beach you will need sunscreen, water, hat, sunglasses and comfortable kayaking clothes that you don't mind getting a little wet from paddle splash.
Thongs/flip flops are ok in the kayak, but water shoes are highly recommended to protect you from oyster shells on the beach.
Do you have double kayaks?
We use single kayaks which are extremely stable, comfortable and great for both beginners and experienced paddlers.
Never fear, if you fall behind or get tired, our guides will happily give you a rest by towing you along behind their kayaks. (This option is great for kids, although adults have been known to take us up on the offer too!).