Sydney Harbour Bridge Tour
Kayak under the Bridge
Sydney Harbour Bridge Tour
Kayak under the iconic Sydney Harbour Bridge
Lavender bay
From 9:00am
Allow 2 hours
From $125 per person
GUIDE RATIO 1:6

Beginner
Join us on our exciting kayak adventure that takes you under the iconic Sydney Harbour Bridge. This 90-minute tour, perfect for beginners, kicks off at 9am and promises an unforgettable Sydney kayak experience.
As you paddle along, you'll be greeted by the world-famous Sydney Opera House, an architectural masterpiece that graces the Sydney skyline. But the real highlight of this tour is kayaking directly beneath the towering Sydney Harbour Bridge, an experience that will leave you in awe.
We'll also make a stop at Sydney By Kayak's Living Seawall Habitat Boulders. Here, you'll discover an underwater oasis, with thriving marine life and learn about our commitment to environmental conservation.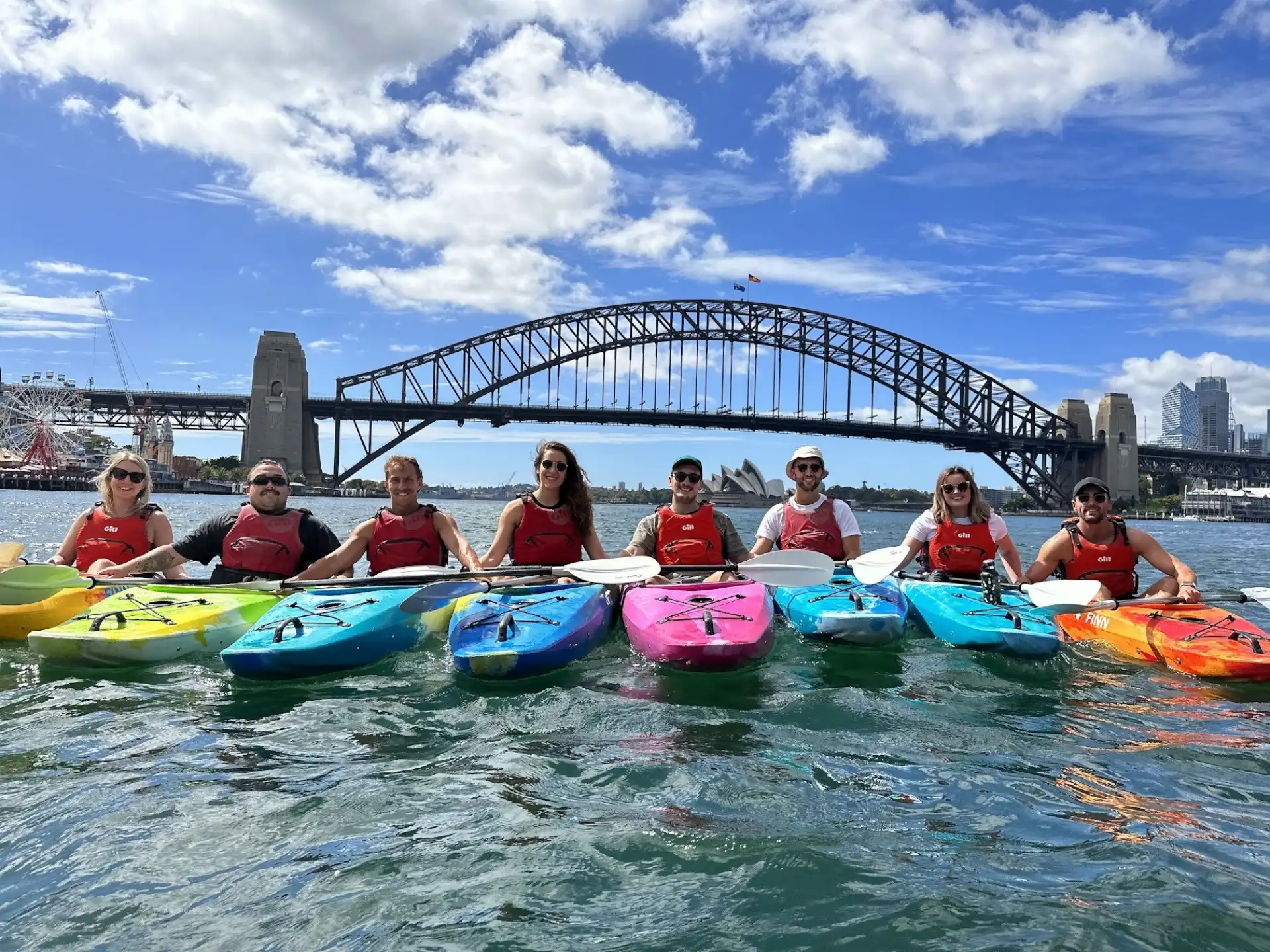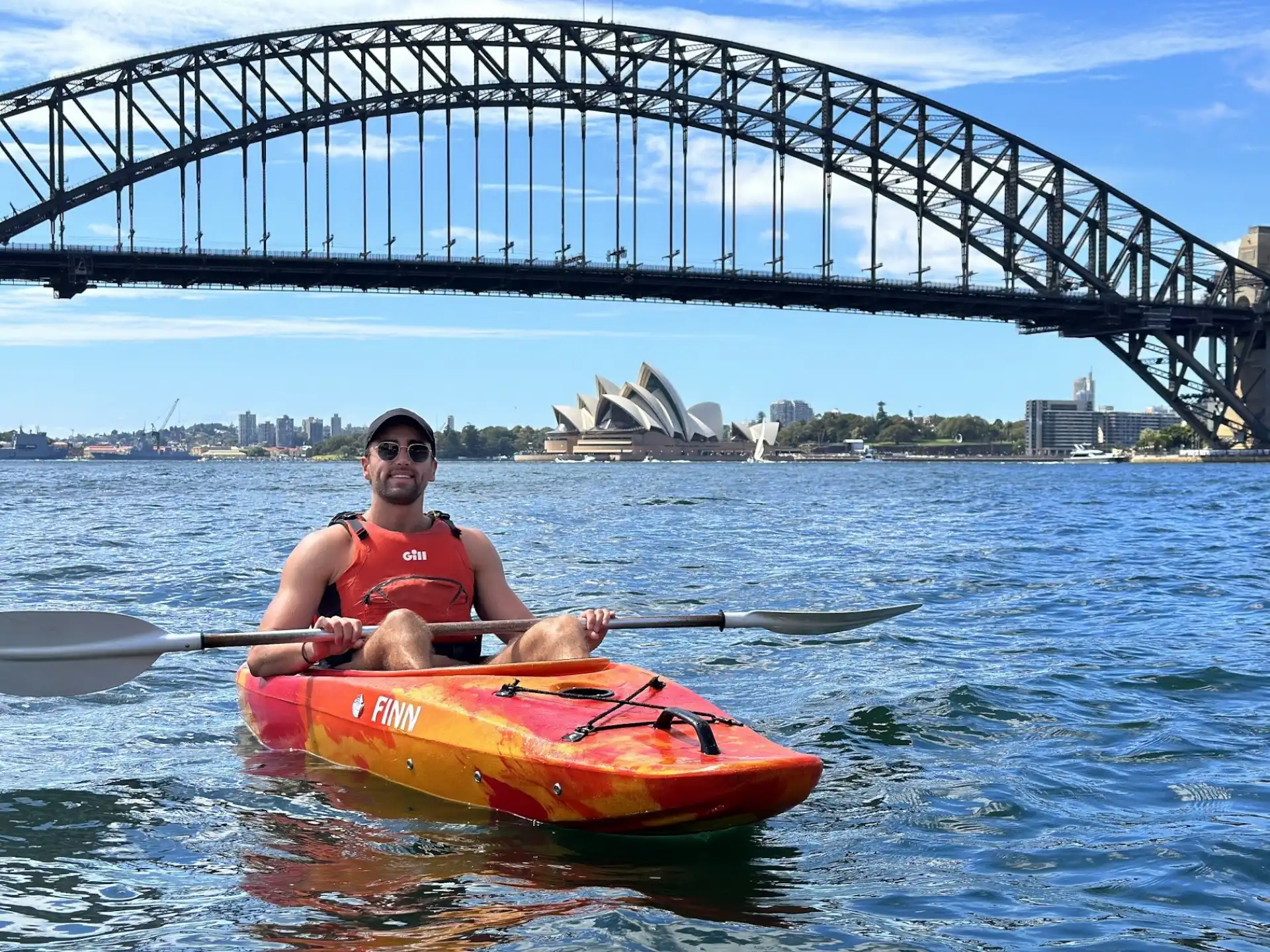 What You Can Expect
Our expert guides will tell you captivating stories about Sydney's rich history, offering a unique perspective on this stunning harbour city.
Best of all, we've got you covered with all the necessary equipment and world-class, complimentary photos to capture your memorable journey.
Don't miss this chance to explore the beauty and history of Sydney Harbour from a whole new perspective. Book your spot today and get ready for an adventure you'll cherish forever!
We will also take lots of photos of you on the harbour and send these to you after the tour, at no extra cost.
Included in your tour
All equipment including a single kayak, paddle and life-jacket (available in various sizes).
Qualified, experienced and friendly guides/instructors.
Full safety briefing and kayak instruction prior to departure.
Free digital photos and videos, taken by your guides.
Hand sanitiser and sunscreen.
What if I haven't kayaked before?
Our kayak tours and social paddles and a great way to experience kayaking for the first time. Kayak Guides will brief you on safety and demonstrate the best paddling techniques, ensuring you have a great time out on the harbour. Let us know if you are a 'newbie' on the paddle questionnaire, so we can give you all the pro tips before you hit the water.
What do I need to bring?
Just like a trip to the beach you will need sunscreen, water, hat, sunglasses and comfortable kayaking clothes that you don't mind getting a little wet from paddle splash.
Thongs/flip flops are ok in the kayak, but water shoes are highly recommended to protect you from oyster shells on the beach.
Do you have double kayaks?
We use single kayaks which are extremely stable, comfortable and great for both beginners and experienced paddlers.
Never fear, if you fall behind or get tired, our guides will happily give you a rest by towing you along behind their kayaks. (This option is great for kids, although adults have been known to take us up on the offer too!).