Sunrise Kayak & Coffee
Discover Sydney's softer side
Sunrise Kayak & Coffee
Discover Sydney's Softer Side
Lavender bay
Pre dawn
Allow 2 hours
$155 Off-peak
$185 Peak
Guide Ratio 1:6

Beginner to intermediate
Before the sun has risen and the city remains asleep, Sydney Harbour is at its most tranquil—calm and quiet. It's the perfect time to explore this beautiful natural harbour, all from the comfort of a kayak on Sydney by Kayak's award winning Sunrise Kayak and Coffee tour.
Sit back and sip on a coffee as the sun rises over Sydney's most iconic sights—the Sydney Harbour Bridge and Opera House. Historically, culturally and naturally significant, Sydney Harbour is full of stories that we can't wait to share with you.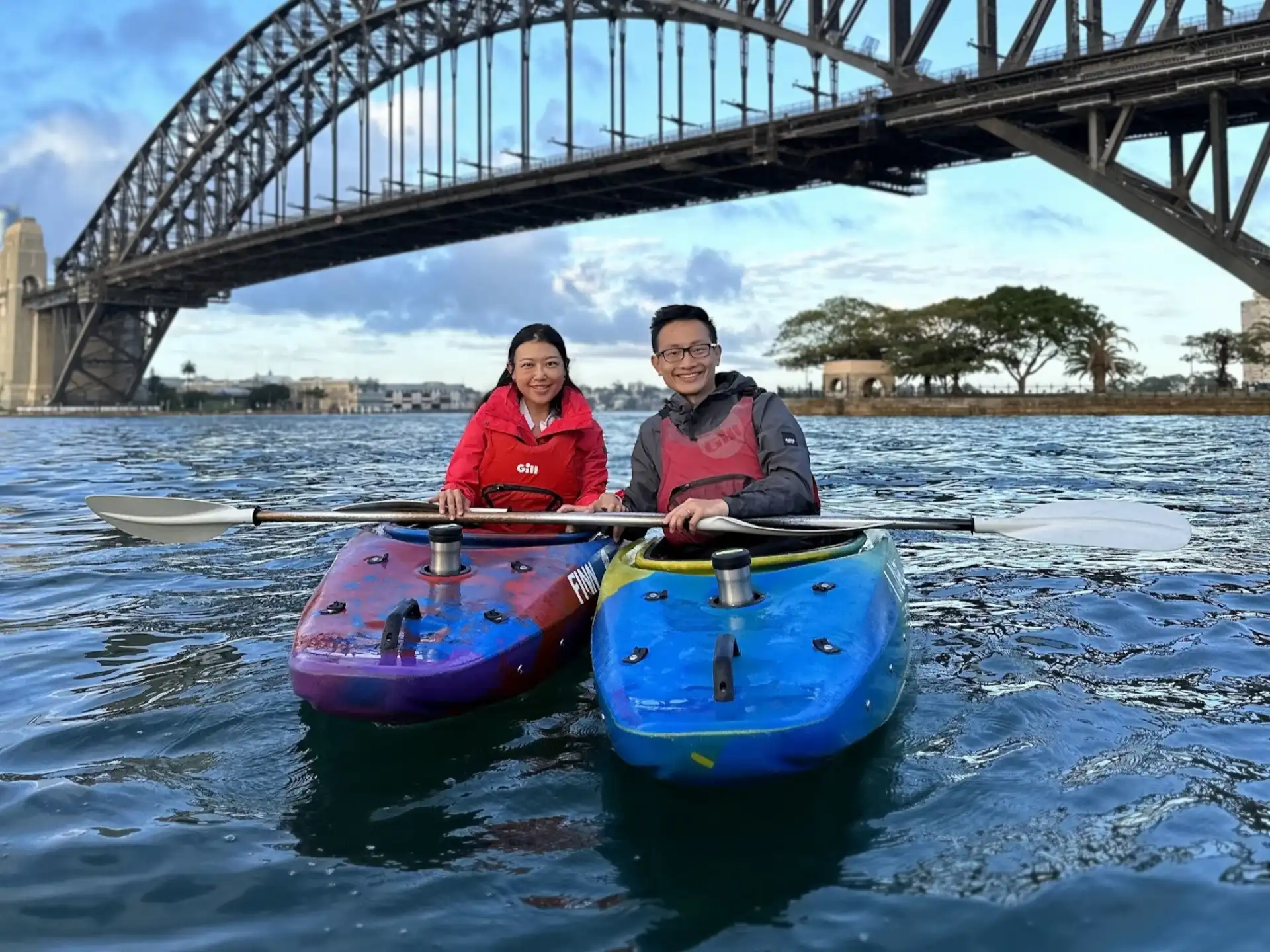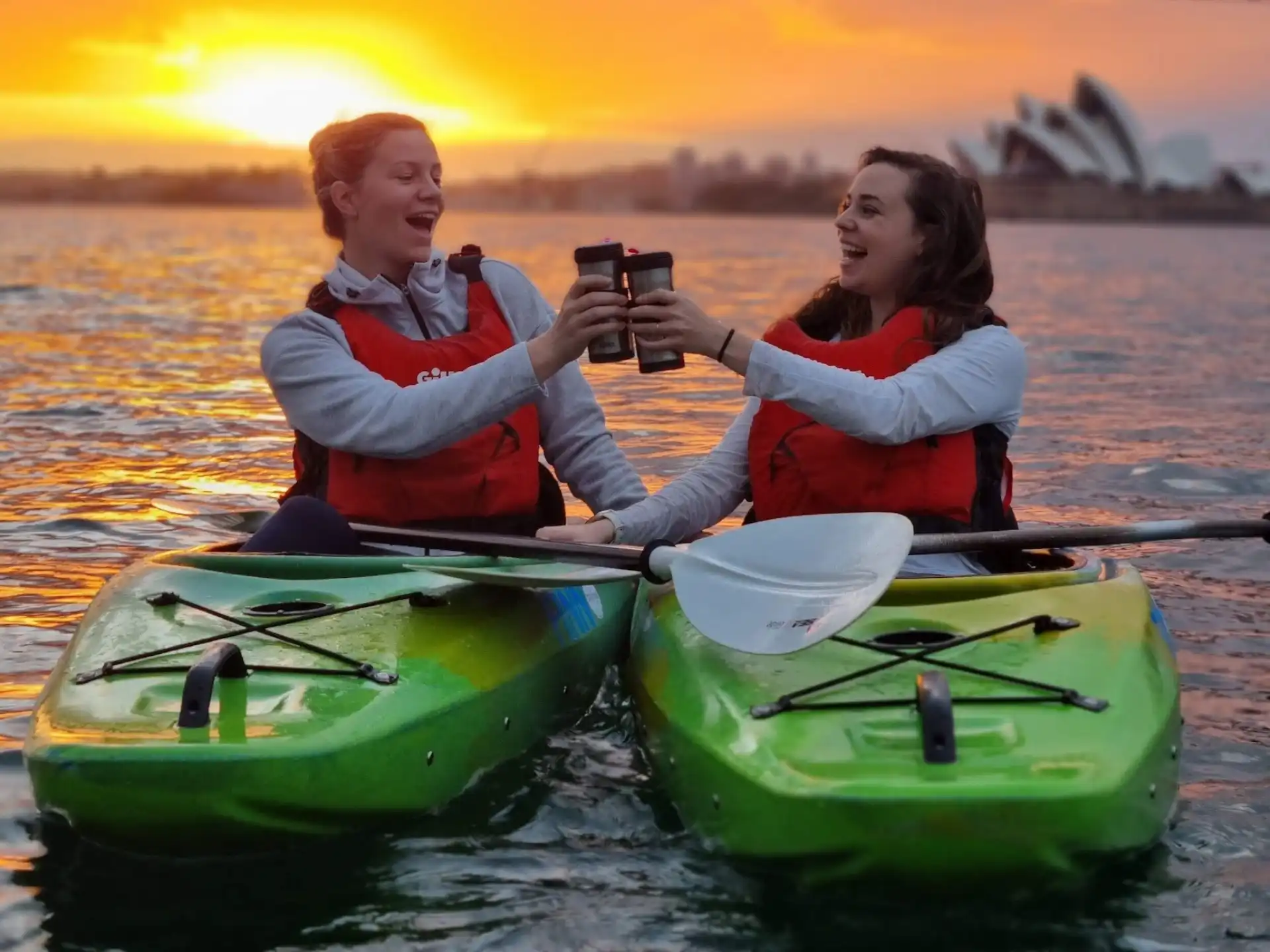 What You Can Expect
Our fun, friendly and experienced kayak guides will meet you at Lavender Bay boat ramp (just look for the bright kayaks). You'll be fitted with a life jacket and will be given a safety briefing and kayak instruction, before heading out on to the water to watch the sun hit the horizon beneath the Sydney Harbour Bridge.
Beautiful Lavender Bay and Blues Point foreshore are the perfect places to watch the city come to life. From November to January the sun rises early, so paddlers can enjoy a kayak under the Sydney Harbour Bridge. In our cooler months, we'll head to Goat Island or Sawmillers Reserve, bathing in the warm rays of the morning sun, enjoying the iconic views along the way. Regardless of the time of year, we guarantee epic photos of you in your kayak, with the Sydney Harbour Bridge and Opera House as your backdrop.. and a hot coffee!
We'll take care of the little things, with your hot barista-made coffee and friendly, experienced Guides, who will take lots of photos with the best of Sydney in the background.
Included in your tour
All equipment including a single kayak, paddle and life-jacket.
Passionate, experienced and friendly guides/instructors.
Full safety briefing and kayak instruction prior to departure.
Pre-ordered, barista-made coffee, tea or hot chocolate from a local café, provided in a splash-proof eco cup, so you can enjoy it throughout your kayak tour.
Free digital photos, taken by your guides, emailed or Airdropped after the tour.
Hand sanitiser and sunscreen.
What if I haven't kayaked before?
Our kayak tours and social paddles and a great way to experience kayaking for the first time. Kayak Guides will brief you on safety and demonstrate the best paddling techniques, ensuring you have a great time out on the harbour. Let us know if you are a 'newbie' on the paddle questionnaire, so we can give you all the pro tips before you hit the water.
What do I need to bring?
Just like a trip to the beach you will need sunscreen, water, hat, sunglasses and comfortable kayaking clothes that you don't mind getting a little wet from paddle splash.
Thongs/flip flops are ok in the kayak, but water shoes are highly recommended to protect you from oyster shells on the beach.
Do you have double kayaks?
We use single kayaks which are extremely stable, comfortable and great for both beginners and experienced paddlers.
Never fear, if you fall behind or get tired, our guides will happily give you a rest by towing you along behind their kayaks. (This option is great for kids, although adults have been known to take us up on the offer too!).